Description
Ecotex® Textile Red Screen Printing Emulsion (TEX Red) by Screen Print Direct® is a pre-sensitized, fast exposing photopolymer screen printing emulsion formulated for plastisol ink systems. TEX Red Emulsion is a ready-to-use emulsion that works great with a variety of light sources making it very easy to work with for any level of printer.
Works with plastisol ink systems
Pre-sensitized emulsion
Easy to work with for all printers
Virtually pinhole free
Diazo not required
12-month shelf life
Screen printing emulsion can be tricky and if you still need help trying to find out which is right for you take a look at our emulsion guide - Which Emulsion To Use?
For more troubleshooting, tips, and education on emulsion please take a look at the blogs we have below:
Application: 
Apply TEX Red Emulsion to clean, degreased, and dried screen with a scoop coater. Be sure to use appropriate application techniques. It's recommended you eliminate any UV light from entering the room and work under a yellow light.
Exposure Times:

Exposure times may vary, start using the times provided below and make adjustments to time if needed. Add an exposure calculator to help dial in exposure times.
10 - 12 seconds with LED Light
6.5 - 7 minutes with 500w Halogen Light
Drying:
86 ° to 104 °F (30 ° to 40 °C)
30% to 50% humidity
Good Air Circulation
Shelf Life & Storage:
12 months if not exposed to extreme weather conditions or exposed to light
Mixed with diazo for water-based Inks: 1 week
✔️Pro Tips:
Prep your screen before coating with

 

Ecotex® Hyper Haze
Eliminate any UV light from entering the room and work under a yellow light.
Use the sharp edge of your scoop coater
Make sure the screen is completely dry before coating the emulsion
Make sure emulsion is completely dry before printing
Keep the emulsion lid on tight to preserve air and light leaks
Gently mix the emulsion each time before use to help extend the life
Write down the day you opened the emulsion on the bottle to better keep track of your chemicals.
Keep in a cool area, the emulsion will break down much faster in heat. Keeping emulsion in a fridge can help to give a slightly extended shelf life, however, emulsion that has gotten to the point of freezing will no longer work properly and must be replaced
Click Here For Safety Data Sheet 
Payment & Security
Your payment information is processed securely. We do not store credit card details nor have access to your credit card information.
Customers that Bought This item Also Bought
Customer Reviews
Write a Review
Ask a Question
The best
The best best best best
10/19/2021
Kyun D.

United States
Great emulsion.
We use this emulsion for our production. And the result has been always perfect.
08/30/2021
Sergio M.

United States
The Best!
I got a quart of this emulsion to test out and i have to say that this was the best emulsion ive used as of yet. I use an LED exposure unit and brought my exoposure times from 25 sec. to 15 sec. And washes out great without having to uses too much water pressure. Will defenatly be purchasing again, a gallon this time.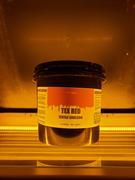 06/27/2021
Eileen D.

United States
Red text emulsion
awesome. Great to use
05/20/2021
Eileen D.

United States
Red/pink emulsion
Excellent. Easy to use. Gave great details. 30 seconds to perfect